Our annual car show occurs on the first Sunday in June.  We are planning to have the show this year!
June 5th, 2022
RSVP on Facebook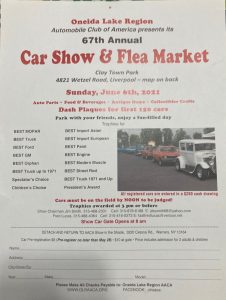 Thanks for those who attended the 2021 show!  We appreciate your support!
Archive info:
The show scheduled for June 7th 2020 was cancelled due to the COVID-19 pandemic. Park management stated the park was closed, and was for the summer.
From Amy: This weekend the women car owners got together for the 1st annual ORL AACA car girl cruise. We went to a local Renaissance Faire. 3 new ladies joined OLR AACA. We are determined to grow our female car owner sub group.
Ladies if you own a car please get in touch with Amy Bamerick so you can be added to the next event letter about our fall trip. Also look for an email to be sent out once the next tour is determined.
...

See More

See Less