Our annual car show occurs on the first Sunday in June.  We are planning to have the show this year!
June 6th, 2021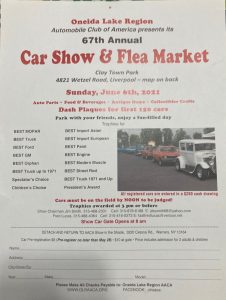 The show scheduled for June 7th 2020 was cancelled due to the COVID-19 pandemic. Park management stated the park was closed, and was for the summer.

Thanks for those who attended the 2019 show!  We appreciate your support!
Archive info:
RSVP on Facebook
It is with heavy hearts that Right Coast Inc, The Syracuse Nationals and the O'Connor family make this announcement.

Yesterday, Friday December 13, our Founder, Mr. Bob O'Connor passed away peacefully after a lengthy battle with Alzheimer's and Dementia.

Bob was an ambitious, hard-working, generous, respected, accomplished and an oh-so-humble friend, father, husband and local businessman. He worked and lived by the philosophies; Family First: Always say Thank you: Give back to the community: Show up early, Stay late: And, Always over-deliver. He loved and cared for his friends, neighbors, employees, the community and his family in ways that cannot be adequately placed into words.

Bob was selfless and genuine and compassionate – a truly invaluable member of the Syracuse community.

In the year 2000, Bob launched his vision of a classic car show at the New York State Fairgrounds, and The Syracuse Nationals were born.

Over the last 20 years, the show that began with modest expectations, grew exponentially, garnering the prestigious title; The Largest Classic Car Show in the Northeast.

From the beginning, Bobs vision included partnering with local non-profit and charitable organizations in order to give back in a measurable way. To date, Right Coast Inc has raised more than 1.5 million dollars in charitable contributions.

And Bobs legacy lives on.

A savvy businessman, Bob worked alongside his wife of 53 years, Muriel, building this unique family brand. He recognized the value of The Syracuse Nationals and Right Coast Inc, and placed his son, Rob O'Connor at the helm upon the onset of his symptoms 2 ½ years ago. Rob will continue executing the vision and trajectory of this family grown company for years to come.

Bob O'Connor will be tremendously missed. Again, more than we can put into words.

We will not forget this amazing man, who has given us so much to remember.

In lieu of flowers, the family asks that you please donate to the Alzheimer's Association 💜.

Calling hours will be held, Wednesday December 18th 3-6pm, at Maurer Funeral Home, Rt 31 Baldwinsville.

Funeral Services will be held, Thursday December 19th at 10:00am at Maurer Funeral Home, Rt 31 Baldwinsville. ...